For more than 40 years, BK Products has served the plumbing industry. Our company has grown from a small distributor to becoming part of Mueller Industries, a world leader in flow control and industrial products.
This relationship allows us to offer the reliability our brand is known for to a wider audience at prices they can afford. We are committed to connecting plumbing contractors, builders, and other industry professionals with the products their projects rely on. Offices in the U.S., Mexico, and China provide flexibility for sourcing high-quality products for customers across the globe.
B & K Products Tan Handle for Quarter Turn Hose Faucets
888-577HC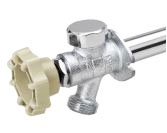 Fits this style faucet
Common questions about this product
Yes, this is the OEM recommended part.
If you're not sure text us a picture 1-888-275-6635 or email us a picture at noelsplumbingsupply@fuse.net.
We will make sure you have the right part.
WHAT OUR CUSTOMERS SAY…
"Fantastic! I walked in with parts to the faucet in my vintage sink and walked out with everything I needed. Chain hardware stores suggested I get a whole new sink and/or would not be able to do it without a plumber. The employee at Noels took a quick look, knew what it was, and had it in stock. I was able to fix my sink in two minutes with their help! "
-Elizabeth A.
03/14/2021