For more than 40 years, BK Products has served the plumbing industry. Our company has grown from a small distributor to becoming part of Mueller Industries, a world leader in flow control and industrial products.
This relationship allows us to offer the reliability our brand is known for to a wider audience at prices they can afford. We are committed to connecting plumbing contractors, builders, and other industry professionals with the products their projects rely on. Offices in the U.S., Mexico, and China provide flexibility for sourcing high-quality products for customers across the globe.
B & K Products 13 1/8″ Stem for Frost Free Faucet
888-573HC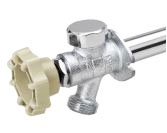 Fits 10″ faucet
Common questions about this product
Yes, this is the OEM recommended part.
If you're not sure text us a picture 1-888-275-6635 or email us a picture at noelsplumbingsupply@fuse.net.
We will make sure you have the right part.
WHAT OUR CUSTOMERS SAY…
"Went in with an old faucet stem that no big box store carried, left with a replacement in less than 5 minutes. "
-Andrew J