PRIER builds plumbing products with purpose. With 140 years of experience in listening to the customer and identifying needs, we design and build products that are easier to install and operate and stand the test of time.
Mansfield Stem Assembly for 8″ Series 300 Hydrant
11 9/16″ Overall length
Made by Prier Products
M-123-5033
Related Documents
300 Series Faucet Parts Breakdown
UPC:670210370141
Customer submitted images of this stem.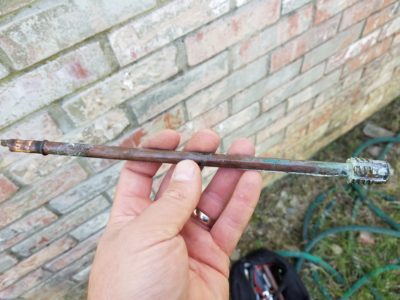 Common questions about this product
Yes, this is the OEM recommended part.
If you're not sure text us a picture 1-888-275-6635 or email us a picture at noelsplumbingsupply@fuse.net.
We will make sure you have the right part.
WHAT OUR CUSTOMERS SAY…
"Noel's Plumbing Supply found this place on Google maps. In and out service. The person I was speaking to the desk offered me a selection knew exactly what I needed price was really reasonable. You don't know how much it means to a homeowner to be able to come in without any run around trying to sell you something you don't need. I recommend this establishment to all my family and friends. "
-Steve C