Woodford Manufacturing Company's history began in 1929 when J.C. Woodford bought a company and the manufacturing rights for the IOWA® Yard Hydrant that marked the beginning of the Woodford Hydrant Company. In 1955 the company's product line had expanded into commercial wall hydrants. The company introduced their first residential faucet in 1963. Woodford is today's leading manufacturer in wall faucets, wall hydrants, yard hydrants, vacuum breakers and backflow preventers.
Woodford Stem for Model 14 & 17 10″ Faucet
Brass stem
Fits 14 & 17 series hydrants
11 7/8″ Overall length
35723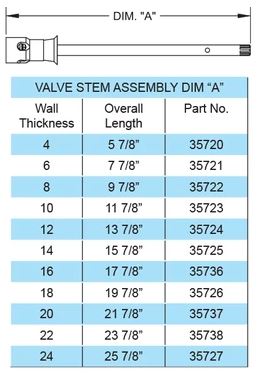 Related Documents
Common questions about this product
Yes, this is the OEM recommended part.
If you're not sure text us a picture 1-888-275-6635 or email us a picture at noelsplumbingsupply@fuse.net.
We will make sure you have the right part.
WHAT OUR CUSTOMERS SAY…
"Fantastic! I walked in with parts to the faucet in my vintage sink and walked out with everything I needed. Chain hardware stores suggested I get a whole new sink and/or would not be able to do it without a plumber. The employee at Noels took a quick look, knew what it was, and had it in stock. I was able to fix my sink in two minutes with their help! "
-Elizabeth A.
03/14/2021