Woodford Manufacturing Company's history began in 1929 when J.C. Woodford bought a company and the manufacturing rights for the IOWA® Yard Hydrant that marked the beginning of the Woodford Hydrant Company. In 1955 the company's product line had expanded into commercial wall hydrants. The company introduced their first residential faucet in 1963. Woodford is today's leading manufacturer in wall faucets, wall hydrants, yard hydrants, vacuum breakers and backflow preventers.
Woodford Model 12 12″ Rod and Rubber Assembly
Brass replacement stem for Model 12 Series Faucet
14 1/8″ Overall length
74520
Related Documents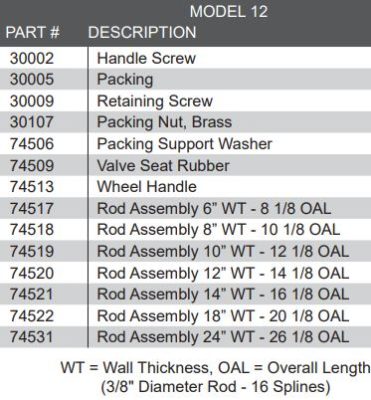 Common questions about this product
Yes, this is the OEM recommended part.
If you're not sure text us a picture 1-888-275-6635 or email us a picture at noelsplumbingsupply@fuse.net.
We will make sure you have the right part.